While we truly enjoy hosting all of our guests, a few stand out because the experience checks so many of the boxes on the list of why we opened our doors.  Some of them we even feel need to be shared and a family that recently booked with us to go on a cycling adventure is the inspiration for this entry of Out the Front Window.
Today the view out the front window is a little less than stellar.  Although fairly typical and certainly improved from the recent ice storm that passed through, the grey clouds and persistent rain has made for a reflective morning.  Thankfully we have learned to dance in the rain, so the reflections about recent events are positive and uplifting!
Last night we were alerted that a guest had left a review about their stay.  These notifications are always exciting with a hint of apprehension.  Did we get it right?  Did we tailor our offering to match the reason they chose to stay with us?  Did we help create an experience that will have lasting positive memories of their stay?  These are some of the questions that were floating around our heads as we eagerly went to check what they had to say.  This is what was written…
"We used Tailwinds B&B as a launch and landing pad for a small cycling/camping trip with our two children, ages 2 and 4, one cold, wet, windy weekend in March. While the B&B offers beautiful accommodations in a beautiful natural setting, with an amazing breakfast; we were most impressed with the hosts, Janet and Trevor, and their genuine excitement to host our family and help facilitate our adventures. They are avid cyclists with lots of knowledge for the area, keen to share and support fellow riders any way they can. They were very happy to have our children running underfoot, made us all feel so welcomed, and went out of their way to make sure we had everything we needed, and more, both while we were out cycling and camping, and when we made it back to their place. The perfect spot for anyone wanting to do some cycling in the area. Thank you Janet and Trevor!"
It was one of those weekends that could have gone very differently and to hear such positive feedback made our hearts soar.  As the first line indicates, this family had set out on their adventure in less than stellar conditions.  Prior to their arrival we had actually advised them the conditions of the Elora Cataract Trailway would not suit the itinerary they had outlined.  There were lots of sections still covered in snow and ice with the rest being pretty squishy.  As a result, we offered to refund their deposit and hoped they would consider booking when the weather and conditions were better.  When they declined and indicated they would come up with a Plan B, we knew this weekend was going to be special.
From the very start, you could tell they were seasoned adventurers.  All their gear was very well organised and all the tools, including the their children's clothing, were matched perfectly to the task at hand.  It was a pleasure to watch it all unfolding as they prepared to embark on the two day trip.  Mindful that snow (yes snow) was in the forecast, there was urgency, but not panic.  Everything was purposeful and methodical.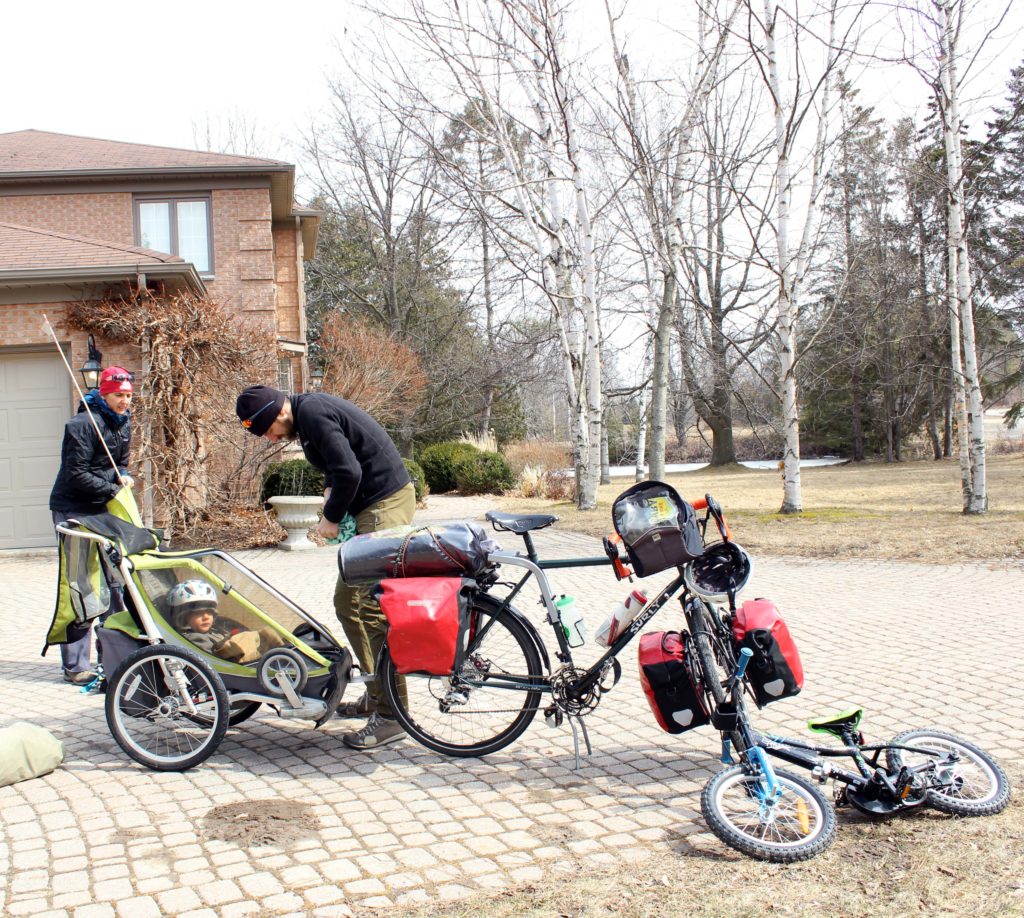 When they asked for some advice on routing, we pulled out our laptop and sat down in the dining room to go over some options.  We used tools like Strava Heatmaps combined with the little bit of local knowledge we possess.  In not much time at all, they were armed with options that would get them to their destination.  The one thing we could not do though is find a flat route out of our location.  Given the amount of gear they needed to deal with the inclement conditions and having two young children in tow, the first part of their journey was definitely going to be a slog.  This in no way seemed to dampen anybody's spirits at all.  There was a mindful resignation to the fact that in order to accomplish the mission, hills were going to be part of the journey.  Before they set off we took some of the transportable elements of the snack board we had prepared for their arrival and, along with some peanut butter, sent it as some extra fuel to get over the hills.
Knowing that life happens and sometimes even with the best preparations the most determined of us can be handed circumstances beyond control, we let them know it would be no trouble for us to come pick them up if need be.  Though we had already gotten the sense there was little that could get in the way of completing what they had set out to accomplish, we thought that call might just come in.  The snow started coming down and again it crossed our mind as we glanced more than a couple times at the phone.  No ring.  The wind picked up and a few branches came down.  Still, no call.  In fact, the next time we had contact was the following day when they sent a text letting us know they were about an hour away from Tailwinds.
We prepared a special adventurer's snack board for their return.  Cheese and crackers just did not seem fitting for a family that had braved the elements for two days and a night.  Much to our delight, there was very little left of it when they retired to their rooms to peel off the layers and get rid of grit that can accumulate during such outings.
One of the things that struck us about the kids was their demeanor upon returning.  We expected to see weary little souls plodding up to the door.  Quite the opposite ending up being the case.  Smiles and giggles were plentiful as they bounced around.  It was clear they had inherited their parent's adventuring DNA.  The adversity seemed to energize them!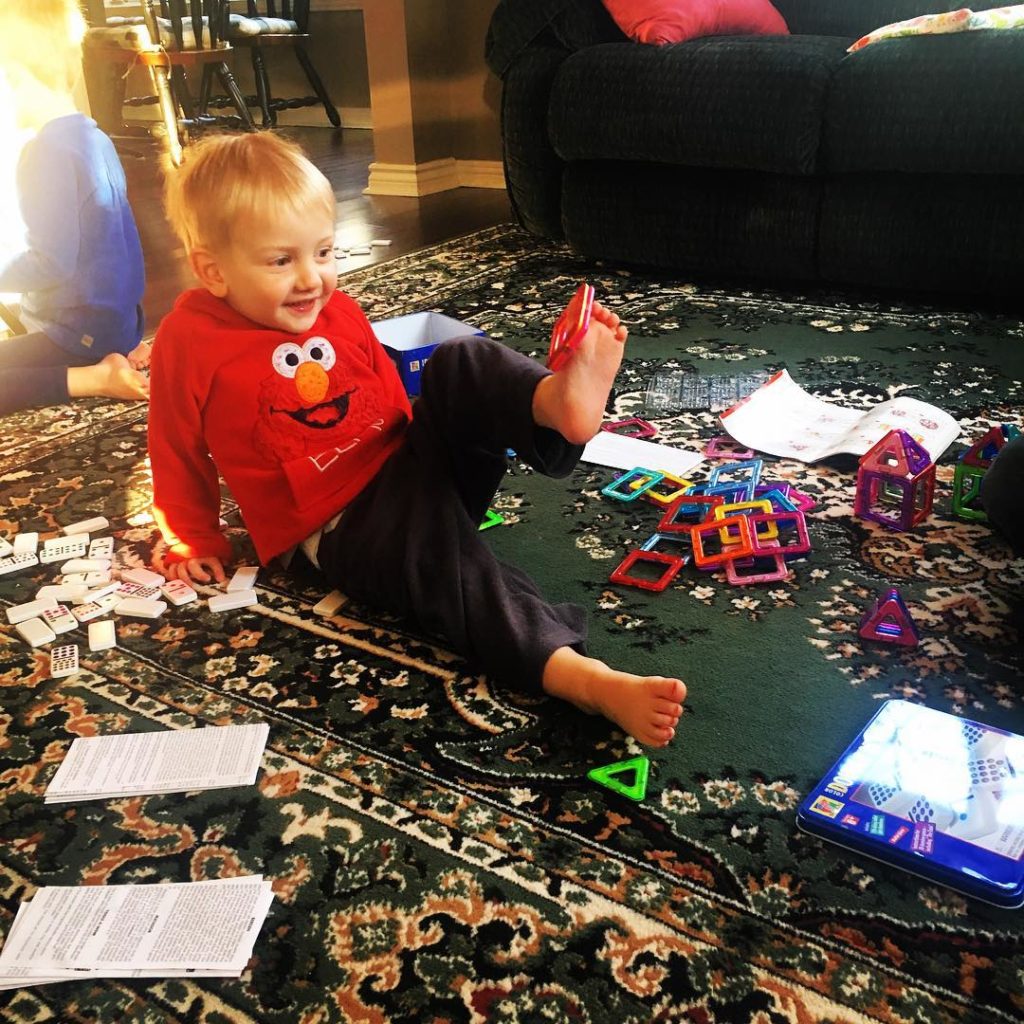 The rest of their stay was very interesting as well and we had a wonderful time getting to know them more.  The kids made use of the games room and had fun doing figure eight laps around the main floor.  It brought great big smiles to our hearts hearing them have so much fun.  The parents had brought some home brewed cider acquired from one of their friends, so we traded some we had just received from Heartwood Farm and Cidery.  That it had just been delivered a couple days prior was such a fun bit of serendipity.
Coming back to the review about their stay, we said that it checked a lot of boxes…
Active Lifestyle
Outdoors
Cycling Tourism
Adventure
Creating lasting memories
Meeting wonderful people
Sharing stories
Uniquely authentic experiences
And the list goes on, but you get the idea.  Most of all though, we were left with an overwhelming sense that despite all the hurdles and curve balls of building a small business from ground up, moments like these make it all worthwhile.  Sharing time and space with people that embrace life so fully is incredibly rewarding and meaningful.  In fact, that is exactly how Tailwinds B&B came to exist!  That is a whole other blog entry, perhaps many, and this one is already by far the longest installment to date.
So, on that note, we leave you with this thought.  When things do not go as you expected, remember sometimes Plan B turns out to be better than Plan A!